---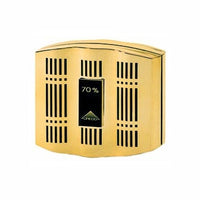 Credo method
The classical method consisted in placing a water reservoir inside the humidor in which the air becomes quickly saturated by evaporated water.
As soon as the Relative Humidity runs past 85%, mold appears. Beyond 90%, cigars will rot away after a few weeks or even days.
The CREDO Precision 70 overcomes this problem. The secret of its originality lies in a physico-chemical solution.

The principle is based on the creation of melange of water and tensio-active substances which limits the potential of the evaporation of the water itself.
The humidity of the air is a function of the composition of this melange.
Therefore, the manufacturer controls the Relative Humidity of the ambiant atmosphere inside any humidor.
Precision 70 is a Humidity Regulator.

Features
Humidors from 40 to 80 Cigars
Element: Oasis Foam
Factory Sealed w/ PG Added
Initial Application / Distilled Water Only
Size (inches): 4-1/2" x 3-5/8" x 1-1/4"
Size (mm): 108mm x 93mm x 28mm