---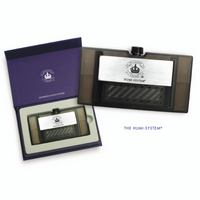 Sale
ALSO

CLICK HERE

 TO CHECK OUT CREDO.
The sleek Diamond Crown Humi-System® features the patented "internally evaporative" humidifying media that has made the Diamond Crown Humidification System famous. The specialized membrane used is only available from Diamond Crown and is just one of the value-added innovations that created this state-of-the-art system.

In the newest generation of this patented system, they have added aeration vents in the back to maximize the control of relative humidity levels. In addition, the front of the unit features an aluminum sliding vent to vary the amount of humidity in your humidor. The Humi-System's design features a translucent, smoked front allowing the user to monitor water levels with ease while maintaining an attractive, understated look. 
The latest version also offers a fill line to ensure the right amount of distilled water is always present. A large reservoir holds more distilled water to allow for longer periods between refilling, keeping maintenance at a minimum.