---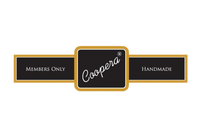 Each quarter,  Club Alejo™ members receive an allotment of six extremely select, limited production Coopera® vitolas ($600.00+ Value).  Not only do they receive a shipment of these cigars every quarter, but they also reserve the exclusive right to purchase these fine cigars from Marcus Daniel Tobacconist. These cigars are produced only for Club Alejo™ members, and cannot be procured by non-members.
Want to try Coopera? For more information on the club and to sign up, please visit the official Club Alejo™ website at www.ClubAlejo.com.
Only Club Alejo™ members can order Coopera® cigars.  All orders are subject to review and we will not fulfill any orders from non-members.